Charlottesville Swing Dance Society (CSDS) is a West Coast Swing dance club serving Charlottesville and the surrounding area.  Look here for info on the next dance or checkout the newsletter below.
Read the CSDS November Newsletter.
Attendees of all CSDS events are expected to be familiar with and abide by our Code of Conduct.
---
CSDS November Dance with Gaia Read and Ilon Weeldreyer (4th Saturday)
Lesson: Easy Extensions (Beginner/Intermediate)
November 23rd at the Ivy Creek United Methodist Church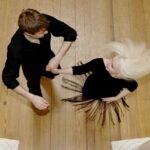 Get your holidays started on the right foot with a CSDS dance the weekend before Thanksgiving. CSDS welcomes Gaia Read and Ilon Weeldreyer to teach the pre-dance lesson and DJ. So come and get a head start on burning off some of that pumpkin pie!  Note this dance is on the 4th Saturday instead of the normal 3rd Saturday.
Lesson participants should have a good grasp of the basics.
more info
Gaia and Ilon are located in Charlottesville, Virginia and have training across a variety of dance styles, including West Coast Swing, Salsa, and Ballroom.
---
SCHEDULE:
7:00 – 8:00 pm: Pre-dance lesson
8:00 – 11:00 pm: Dance
10:00 – 11:00 pm: Westie Power Hour (all WCS/crossover music)
ADMISSION:
$10 CSDS Members
$13 Non Members
$5 Students (full time w/ID), First-Time Attendees
$5 CSDS Members during their birthday month
17 and under are free (no childcare services)
FOOTWEAR:
Please wear either dance shoes or light-colored soles; whatever you wear must be non-marking!
INCLEMENT WEATHER POLICY:
In the event of an inclement weather forecast, check this event page as we will decide by 1 pm that day if we are having or cancelling the event.