Charlottesville Swing Dance Society (CSDS) is a West Coast Swing dance club serving Charlottesville and the surrounding area.  Look here for info on the next dance or checkout the newsletter below.
Read the CSDS November Newsletter.  Subscribe to the Newsletter to receive it each month in your email!
Attendees of all CSDS events are expected to be familiar with and abide by our Code of Conduct.
CSDS has an online registration process to help streamline dance registration and payment.  See instructions below for more information.
Next Dance:  Saturday, December
16, 2023 – Member Appreciation Dinner and Holiday Dance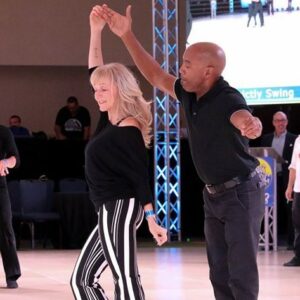 Instructor/DJ: Kristin Wenger
Lesson: A Few New Patterns to Spice up your Holiday
Style: West Coast Swing
Level: Basic Plus (dancers must know WCS basics or have taken WCS Level I)
Location: Municipal Arts Center (1119 5th St SW, Charlottesville, VA 22902)
Come celebrate the holidays with your CSDS friends at the December Member Appreciation Dinner and Holiday Dance!  NOTE: You MUST RSVP to cvilleswingdance@gmail.com by December 13 to attend the dinner.
more info on Kristin
Kristin has been studying, teaching, and competing in WCS since circa 2000. She offers group classes in WCS and Nightclub Two-step through Albemarle County Parks and Recreation; she also teaches private lessons and choreographs wedding 'first dances. She has served on the CSDS Board of Directors and routinely deejays for area WCS and ballroom events. Kristin has a reputation for combining clear, easy-to-follow instructions with humor and emphatic encouragement. Kristin has her M.A. in Teaching from the University of Virginia.
SCHEDULE:
6-7 pm: Members Dinner in lower level of MAC (must RSVP by Dec. 13th!)
7-8 pm: Lesson
8-10:30 pm: Dance
ADMISSION: We accept cash, check and PayPal.
Dinner is free to all CSDS members and $15 for non-members but you MUST RSVP by December 13th. Or better yet, become a member before Dec. 13th and get into dinner for free! Go to Membership to become a member.
The dance follows normal pricing for all attendees.
LESSON + DANCE:
$10 CSDS Members
$5 CSDS Members with December Birthdays
$13 General Admission
$5 Students w/ID
DINNER, LESSON + DANCE:
$10 CSDS Members
$5 CSDS Members with December Birthdays
$28 General Admission
$20 Students w/ID
DINNER ONLY:
Free for CSDS Members who RSVP by Dec. 13th
$15 General Admission
MENU:
Grilled lemon garlic chicken
Chicken parmesan
Kale and quinoa cakes
Roasted butternut squash with spinach and craisins
Seasoned green beans
Dessert
In the event of inclement weather and/or there is a schedule change or cancellation, we will make a post on our public Facebook page (you don't have to have an account) by 2 pm ET the day of the dance and if time permits, our website will be updated and an email sent out.