Charlottesville Swing Dance Society (CSDS) is a West Coast Swing dance club serving Charlottesville and the surrounding area.  Look here for info on the next dance or checkout the newsletter below.
Read the CSDS December Newsletter.
Attendees of all CSDS events are expected to be familiar with and abide by our Code of Conduct.
Next CSDS Dance: 
Saturday, January 15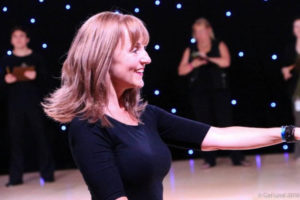 Location:  Ivy Creek United Methodist Church
Instructor/DJ:  Kristin Wenger
CSDS is back in 2022!  This is our Bring a Friend dance with a beginner friendly lesson. This special is for any friend who has never been to a CSDS event before.  Your friend gets in free and you get in for just $5.  Both you and the friend must attend the lesson to get this deal.  What a great way to spread the West Coast Swing love in the New Year!  Advanced registration is required due to occupancy restrictions and all attendees must provide vaccine verification (see below).  Registration (by email) opens January 1st.
Schedule:
7-8 pm:  Lesson (included in admission)
8-11 pm:  Dance
Admission:
CSDS Members: $10
General Admission: $13
Students (full time w/ID):  $5
Members with December birthday:  $5
Children 17 & under:  Free
"Bring A Friend" Special:  see above
---
Until further notice, all CSDS in-person events are vaccine only with masks required; see the CSDS website for our attendance/health policies including vaccine verification details. We are monitoring current conditions and reserve the right to make changes, including cancellation, to our attendance/health policies at any time. We are cautiously optimistic about returning to in-person events in 2022 and greatly appreciate your continued patience, understanding and support as we continue to navigate these challenging times.
Requirements
Vaccine Verification required (see below).
Face masks must be worn at all times.
Advanced registration is now required for all CSDS events.  Email CSDS to reserve your spot as attendance is limited due to occupancy restrictions.
Vaccine Verification
Submit one-time proof of your covid-19 vaccination by emailing CSDS. We recommend covering up any personal information on the vaccination card other than your full name. The CSDS Board believes vaccination is a key part to returning to social dancing and our entire Board has been vaccinated. For full information on our vaccine only events, please review the CSDS Vaccine Only Events Policies. The Charlottesville COVID vaccination center now takes walk-ins at certain times; you can schedule your appointment here.