A History of the Charlottesville Swing Dance Society
By Cindy Cass
Editor's Note:  This article was written in 2005.  Anyone interested in updating the article, please send us an email! 
In March 2005, CSDS was 13 years old! Given my love of history it was a natural response for me to archive CSDS before, as Paul Simon says, it started "slip slidin' away." This April issue insert is my attempt to trace the history of CSDS, chronicle its events, and most importantly, record for posterity the people who created and sustain CSDS. I hope that this information will be interesting to members and useful to future Boards in planning dances, workshops and other events. I've done my best to achieve accuracy with what information is available.
Beginnings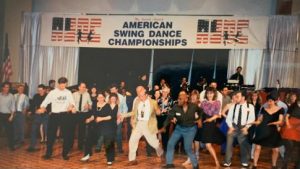 The Charlottesville Swing Dance Society began with people who were first dancers and friends in the Contra dance community. In the late 1980s there was a revival of swing dance that hit the country and Charlottesville was no exception. Some of the Contra dancers began taking up Swing dancing. Audrey Dannenberg, CSDS' first president, remembers that as far back as 1985, Mary Hunter was one of the original swing instructors doing workshops in Charlottesville. Swing dance, that is, East Coast Swing and Lindy Hop, really began to blossom in C-ville by the early 1990s. A small group of around 15 to 20 dancers were passionate enough to be "hitting the road" several weekends a month to go to the famed Spanish Ballroom in Glen Echo Park, Maryland. John Robertson remembers that it was "HOT!" with as many as 500 people on a Saturday dancing the night away to live bands. In addition to this venue, Charlottesville dancers also traveled to D.C. for various events such as the Easterns which began in 1987 and the first Swing Fling in 1994. Those early dancers also suffered the heat of the un-air-conditioned Buffalo Gap Dance Camp in West Virginia.
Some of these dancers such as Audrey Dannenberg, Brad Cobb, Sarah French, and Patti Ennis (later Jobst) had a contract to dance with First Night Virginia in 1991 and 1992. Anne Golladay remembers the first time she saw Patti dance was at First Night in 1991. It made her want to learn to dance.
Organizing a "Club"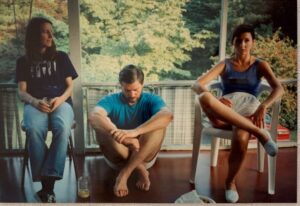 This group of Contra dancers who were quickly taking up ECS and Lindy spent increased time together during 1992 dancing at various Charlottesville and out-of-town venues. On May 30, 1992 these new swing dancers and the Contra dancers teamed for an All Night Contra & Swing Dance. On September 26, 1992 a swing dance was held at the Jack Jouett Middle School cafeteria. Nick Page and the Red Hot Smoothies provided the music. Audrey Dannenberg and Bob Arnold provided the free lesson at the start of the dance. Then on November 14, 1992 the first "official" Charlottesville Swing Dance Club dance was also held at Jack Jouett Middle School with the Michael Elswick Swing Quartet providing the music. Sarah French taught the free lesson. A hotline was also established in 1992. So, as 1992 progressed, the group was moving toward formalizing their new-found dance into a "Club."
Donna Arehart, as a CPA and treasurer on the first Board, wrote the bylaws and the Articles of Incorporation.  In organizational meetings during 1992, CSDS was first known as the Charlottesville Swing Dance Club. By the first official Board meeting on February 2, 1993, the name was changed to the Charlottesville Swing Dance Society. The Society was a smoke-free, alcohol-free organization from its inception due to insurance restrictions. There were black t-shirts with gold stars and later there were also CSDS jackets for winter and spring which were "even cooler than the T-shirts" according to Audrey. These were available for order and members wore them around town to dances and when they traveled to out-of-town venues. It was somewhat typical for dance clubs to have such attire during this  time period. Keith Woodard, also on the first Board, designed a banner for CSDS. Audrey developed the first CSDS membership form.
Newsletter
There was no newsletter initially, but Patti Ennis, another member of the first Board, produced an events calendar during 1992. The first calendar was published in July 1992. Her first "official" newsletter is dated December, 1992. There were 30 members, and by the second newsletter in February 1993, there were 36 members. For the first few years the newsletter was entitled, The Charlottesville Swing Dance Society Newsletter, but in May 1995 the name was changed to Swing Dance News. No reason is given although it may have seemed a more appropriate title in that the newsletter covers national and regional dance news, although the emphasis is on local dancers, classes and events. Steve and Sally Carter did the collating, folding and mailing of the newsletter for many years.
In the January 2004 issue, members were given a chance to respond to a questionnaire about CSDS to help the Board determine CSDS' direction. Results were summarized in the March 2004 issue. One can trace the history of desktop publishing by perusing CSDS newsletters. In the early years, new technology provided editors with sophisticated and fun graphics with which to "dress up" the pages, and by 2002 digital photography made it easier to include photos. The newsletters have been gathered into a notebook beginning with the May 1994 issue to the present. These are available for any member who might wish to read them; contact the current editor. There are only a few gaps, but the earliest ones from 1993 to 1994 have not been located.
Swing Swap
Swing Swap was first held on Tuesdays at the MACAA off Park Street (formerly the YMCA) and the Carver Recreation Center. In the beginning Martin Simpkins and Donna Arehart were deejaying and keeping the dancing going. However, for most of its existence, Swing Swap has been held every Thursday on the stage at the Albemarle County Office Building. Initially they were held only the first and third Thursday at this location, but in February 1993 they were held every Thursday. Patti Ennis did the deejay honors until her departure in December 1999. Kristin Wenger then took over until she resigned in 2004.
CSDS has tried a number of different things regarding SS. First, the start time has fluctuated between 7:00 and 7:30 p.m. In the early years, a short workshop was given during the first hour by volunteers who were local dancers/instructors such as Patti Ennis, Ed Dingman and Josie Kincaid, Carlos Garcia and others. Also, for a few swaps, a dance videotape was viewed such as a nationally-known dance instructor video or a competition from a large event such as Easterns or the Virginia State Open.
CSDS boards have struggled with low attendance at SS from late 2002 to the present. New dance venues such as Stacy's Dance Jams and the 4th Swing, along with the regular USABDA dances, may be partly responsible for decreased attendance in that they provide other regular outlets for practice. Additionally, the Country Dance Night on Wednesdays, started by Dave Golladay and Gary Davenport to replace the Max's Night Club venue, has also provided competition for the dancers' time.
The Albemarle County Parks & Recreation Department
In the early 1990s, Sarah French and Brad Cobb were the first to teach ECS for the Albemarle County Parks and Recreation Department. This organization and this dance remain the entry point and dance for most people in our Swing dance community even to the present. East Coast Swing is an easier dance to learn than some of the other dances, and even at the current rate of $22 for six-weeks of dance classes, it's affordable and reasonable for people who want to "try out" dance as an activity.
Brad and Sarah taught the first ECS classes at the Carver Recreation Center and at the old Jefferson School. Kathy Stacy taught the first WCS classes for Parks & Rec in May and July of 1994. But Patti Ennis's growing interest in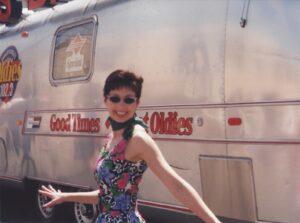 WCS led her to begin teaching WCS classes continually from May 1995 through December 1999. She taught both East and West Coast Swing regularly for almost six years, sometimes with partners Michael Smith (ECS) and Carlos Garcia (WCS). Along with Patti, Carlos also became a national competitor. Many a Charlottesville dancer got their start in dancing from Patti.
Patti also taught Lindy moves for CSDS' Sunday Night Dance Party at the Inner Stairway Karate Club on Cherry Avenue from November 1994 until she moved. Michael Smith was often her partner at this CSDS venue. During the last few years the Sunday Night Party was a mix of ECS and WCS with Kristin Wenger.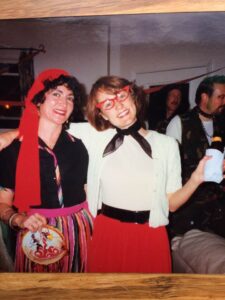 Before moving, Patti mentored Kristin Wenger to teach the East and West Coast Swing classes for Parks & Rec. Kristin's name first appears as a Parks & Rec instructor for ECS in March 1999. She taught her first Parks & Rec WCS class in November 2000. She continues to teach ECS and WCS presently along with an occasional Night Club Two Step class. Stephen Strub also taught ECS classes for both Charlottesville and Albemarle County Parks & Rec Department.
A New Dance Makes Its Mark… Bands vs. DJs
Change seems to be the one inevitable element in all of life and dance is no exception. By the mid-1990s a new dance, West Coast Swing, was making its presence known within the Charlottesville dance scene. This shift from ECS and Lindy being the only dance at CSDS events is also reflected in the music of the dances. A quick glance down the music on the attached spreadsheet shows that beginning in 2000 deejays became increasingly prominent. There are several reasons for this. One was finances. The revival of the ECS and Lindy dance craze of the 1980s and early 1990s had subsided by this time. Also, bands are more expensive than deejays and decreased attendance and finances dictated a reduction in CSDS expenses.
Another reason is that for many members there was a "natural progression" of their dance interest and skills to move to WCS as an equally popular dance along with ECS. Deejays generally play a wider variety of music than bands and especially songs that are WCS dancers' favorites. By 2001 there was a 50/50 split between deejays and bands, and by 2002 deejays outnumbered bands. The cost of bands restricted them to one or two dances per year by 2003. This is a marked change from the early years when every dance had a band for its music.
CSDS Dance Venues
Over the past 13 years, CSDS dancers have danced in just about every public building in Charlottesville. Initially they went to the Boar's Head Inn Tavern Room which had a wooden floor, dancing to the tunes of the Eisenhower Band. Other places they frequented in the early years were the Best Western Cavalier Inn on the corner of Emmett Street and West Main near the heart of the University, the Odyssey Supper Club, Aunt Sarah's Restaurant on Emmett Street (now demolished due to Best Buy), and Sloan's on Arlington Blvd. which is now the site of Keller & George Jewelers. During 1995-96, Gatwick's was another place swingers danced for a short while; they then moved on to Trax Night Club. Boudreau's on Rio Road is also an occasional place for dancing.
There was a two-year exile from the Boar's Head Inn Tavern Room beginning in September 1994, but by October 6, 1996, swing dancers were invited back on Sunday evenings. In 1997 Max's Night Club began a Thursday night Swing Night. Carlos Garcia, then newsletter editor and later national competitor, wrote in July 1997, "The Max is currently the best place to Swing Dance in Charlottesville. This is the best place to learn that move you just 'have to have.'" This venue is listed in the newsletter only through July 1998 so it was fairly short-lived perhaps due to its conflict with Swing Swap which was also on Thursday evenings.
Perhaps the favorite venue for dances was the University of Virginia's Alumni Hall which was used for two full years from January 1996 through December 1998, but the cost of that facility became prohibitive. The Society then began holding dances at the Greek Orthodox Church Fellowship Hall at 100 Perry Drive in January 1998 through December 2000. Dancers liked the warm wood atmosphere of that venue, but the $500 rental fee eventually made it too expensive. The current home for dances is the Municipal Arts Center and dancers are pleased with its clean appearance and beautiful wooden floor.
Where Are They Now?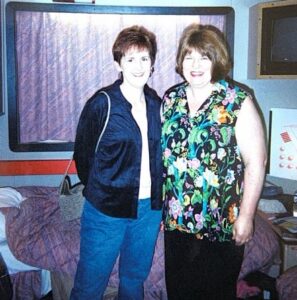 John Robertson estimates that at least a 1000 people have come through CSDS at one time or another. A few of those original members still live in Charlottesville and are still attending CSDS dances. Anne and Dave Golladay, Judy Benter, Kathy Stacy, Gary Davenport, Keith Woodard, Michael Smith, Chris Javor, and John Robertson, are a just a few such dancers. Others have gone on to achieve a measure of fame in the dance world, namely, Patti [Ennis] Jobst who won first place in the Sophisticated Swing Division at the last U.S. Open in 2004, along with a string of wins at numerous other dance venues since leaving Charlottesville.
Donna Arehart became seriously involved in ballroom dancing, and her dance website is a mainstay of the Central Virginia dance community. A number of others have made work-related moves to other cities such as Brad Cobb, Carlos Garcia, and Kelly Ceppa. Forrest Workman moved away, but has recently returned to Charlottesville. And still others such as Sarah French have continued to live in Charlottesville, but have had life changes such as marriage and children which require that dance take a backseat in their lives.
Summary
For 13 years CSDS has provided our community with dance. As John Robertson states, "CSDS brought wonderful instructors to Charlottesville from the beginning." CSDS has also been the organization that has consistently helped the novice learn the joy of dance through its Thursday night Swing Swap and until January 2004 its Sunday Night Dance Party. While the CSDS board has most of the responsibilities of the organization, over the years its hundreds of members have always stepped in when needed to see that swing dancing has a place in our community. As Dave Golladay said on CSDS' 10th anniversary flyer, "In CSDS' effort to merely give people a place to dance, it has become an institution in the community and one of the greatest loves of so many people's lives. Here's hoping it will be here 100 years from now."