~ West Coast Swing Level 1 & 2 Intensives + Dance ~
with Alyssa Gillespie + Rob Glover!

Learn to dance West Coast Swing! Already know some WCS, then solidify your basics! Experienced WCS dancers, learn the opposite role and grow your dance! The Level 1 and 2 Intensives have something for everyone. #gettoclass
3-HOURS of INTENSIVES:
4:00 – 5:30 pm: Level 2
5:30 – 7:00 pm: Level 1
Cost: $25 per person
Dinner: RSVP is closed.
***No partner necessary!***

Spend up to 3-hours in leveled, growth-oriented workshops for Beginner through Advanced level dancers with Charlottesville's own West Coast Swing instructor, Alyssa Gillespie and Boston-based Instructor Rob Glover! Alyssa and Rob are both accomplished dancers with years of experience teaching beginner-advanced level dancers in many different styles of partner dance. In 2018, they competed professionally at the US Open Swing Dance Championships in the Showcase Division!
All Intensive attendees will receive a $5 off voucher for the evening dance from 8:00 – 11:00 PM, at the Ivy Creek United Methodist Church Fellowship Hall. If you are a first-time attendee to a CSDS dance, then your admission to the dance is FREE with the voucher!
SCHEDULE:
3:45 – 4:00 pm: Registration
4:00 – 7:00 pm: Intensives ~ Level 1 & 2
7:00 – 8:00 pm: Dinner
8:00 – 11:00 pm: Dance
ADMISSION:
Intensive: $25 per person
Dinner: RSVP is closed.
Dance: $10 CSDS Members, $13 Non-Members, $5 Students (FT w/ID) & First-Timers, Children Under 16 are Free, Intensive/First-Time Attendees are Free w/Voucher
PAYMENT:
1) PayPal (see link below).
2) On Site: cash, check, credit card & PayPal.
SHOE & TELL with Adela & Tammy! (approx. 9:15 pm)
CSDS February Dance Shoe & Tell with Adela + Tammy
INCLEMENT WEATHER POLICY:
In the event of an inclement weather forecast, check this event page as we will decide by 11 am that day if we are having or cancelling the Intensive! Anyone who has prepaid will receive a refund.
______________________________________________________________________________
West Coast Swing Group Classes thru our Community Partner, the County of Albemarle Parks & Rec Dept.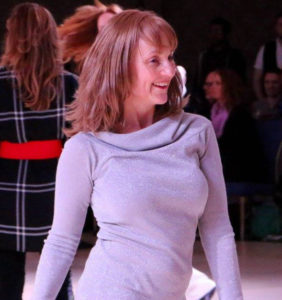 Local instructor Kristin Wenger, who has the longest running group classes, starts her next session of Tuesday night classes on March 5th, at the Murray High School gym (where CSDS' Swing Swap is held). West Coast Swing Level 2 is 6:00-7:30 pm, and Nightclub 2-Step Level 1 is 7:30-9:00 pm. You can sign up online (Kristin cannot take payment in class).